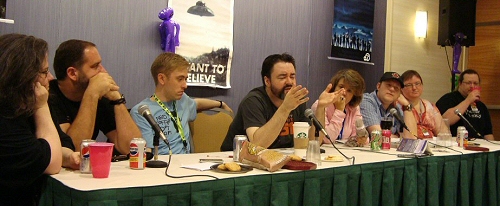 Look at me there, almost falling asleep next to Widge... Mondays at Dragon*Con are tough. Yet, amazingly, we got a large crowd for our farewell panel this year. The biggest one we've ever had on a Monday to my memory. Although my memory of Dragon*Con - Day 4 is always a little fuzzy.
Make the Bad Men Stop II
has everything you want from a NeedCoffee panel but with more incoherency and mumbling. And more people too. We're not all mic'ed correctly, I don't think there was enough mics for us, but hopefully you can still enjoy the audio.
To listen to the cast
CLICK HERE
or to download it directly
CLICK HERE
. And to hear the first MTBMS panel
CLICK HERE
.